Blog
A melting pot of multi-national cultures as well as heritage, the countries of Thailand and Cambodia paint a colorful picture of Asian vacation/holiday destinations. While most popular tourist destinations in the countries have been featured to no end, the view is quite different when I embarked on a photo shoot. Cambodia on one hand is known for its ancient temples, lush greenery and unmatched wildlife, Thailand is equally popular for its colorful lifestyle, metropolitan crowds and proud history. Here's what make Thailand and Cambodia one of the best vacation spots.
'Thailand: Amalgamating the modern and the ancient
Great food, rich cultural heritage, thick jungles, cheap shopping, spotless beaches, vibrant nightlife – this is what makes Thailand truly great. Being one of the most popular holiday destinations in Asia, this country can accommodate any kind of tourist. Whether you are a cultural aficionado looking for a budget holiday or in the mood to splurge on luxury hotels, dining and shopping, Thailand is open to all. One of the most popular attractions in the country is its numerous natural parks and sanctuaries that attract attention from the inquisitive child, the nature enthusiast, and the wildlife photographer within you.
Thailand is most popularly known for its exotic islands with spotless beaches, exquisite seafood and live entertainment that proudly highlight its unique as well as vibrant culture. Two such islands include Koh Samui and Phuket. Koh Samui in particular is known for its diving spots, unmatched coral reefs, and spotless white sand as well as clear blue waters. In contrast to this pristine is the backdrop of thick green tropical forests that house exotic animals, birds and plant species.
A photographer's paradise, Phuket is another must-see sight in Thailand as it encompasses everything a tropical vacation must be. Natural beauty, wildlife, adventure, romance, and a sense of enlightenment perfectly describe my experience in the island.
'A trip back in time: Cambodia's rustic and natural beauty
In stark contrast to the fast-paced excitement in Thailand, Cambodia is the perfect place to relax, introspect and discover the best compositions. Laden with thick green jungles, ancient temples and ruins, as well as a vibrant and unique culture, Cambodia is a shutterbug's paradise. Being the single most popular attraction in the country, Angor Wat was naturally the first place to visit. While the temple itself is a testament to architecture and human artistry, the sunrise is indescribable. Everything about Cambodia is a stark contrast from your average concrete jungle and it is this difference that makes the country the best place to escape.
The Siem Reap region in Cambodia is one the most popular tourist regions, attracting eager travelers from all over the world. In fact, you can visit the very temple where the popular film Lara Croft was shot. Ta Prohm, the popular temple, is brimming with crumbling walls and intertwined tree roots to create an ancient and alien setting, much different from any other cultural spot. The oldest temple in the Siem Reap region is Wat Bo, a place known for its ancient structures as well as entertaining shadow puppet shows.
More popular spots in Cambodia include the Bayon temple, a 12th century Khmer temple that draws its art and architecture from Buddhism as well as Hinduism. Nestled in the ancient city of Angkor Thom, the Bayon temple is home to 51 small towers and over 11,000 carved figures spanning over a mile of surrounding walls. While at Angkor, you cannot afford to miss other smaller yet equally beautiful temples like Ta Som, Preah Khan, Banteay Samre, Bakong, and Phimeanakas. As for the royalty in Angkor Thom, a visit to the Terrace of the Leper King is worth a look as the 15th century structure depicts Yama, the Hindu god of death.
My trip to these two fascinating countries offered a great opportunity to see and capture some very unique and exotic images. You can expect new photos from this trip added to the Sentio Photography Facebook fan page and to this website over the next few weeks. I hope you enjoy the Thailand & Cambodia Collection: Exotic Lands of Natural Beauty as much as I enjoy bringing my work to you.
This entry was posted on Monday, August 5th, 2013 at 12:38 pm
You can follow any responses to this entry through the RSS 2.0 feed.
 My blog is part of my growing effort to connect better with readers and fans.  I will regularly post both information and photographs on this blog, to keep everyone updated.  To begin with, here is a quick account of my activities till now.
In 2011, I held an exhibition at the Ivanhoe Artists' Mosaic.  I am happy to say that my Caribbean Collection: A Coastal Experience was well received.  It was even covered by the Arts & Entertainment section of the Passaic County Pulse.  My journey led me to the coastal regions of Puerto Rico, Mexico, Belize, and several other places.
About my experience in Greece
I felt lucky to see some breathtaking sights, and they were promptly captured on my camera.  I present you with the collection titled Greece: History & Romance.  In this collection, I tried to capture modern and ancient Greece, and show how the two times have merged.  I would recommend Greece to all travelers.  If you are traveling to that part of the world, Greece is a must-visit place on your itinerary.
One place I have vivid images of, is the Greek isle of Santorini. Santorini or Thira is a popular tourist destination and has some truly amazing sights to see.  Santorini is far from the mainland (200 kms), yet so near.  The Greek influence is unmistakable.  I even visited Athens, the center of ancient Greek civilization.  You can see some of these images here, on my website.
New ways to connect with me
Recently, I created a Facebook account to connect with all my friends, family, and well-wishers.  I also have an account on Instagram.  All the photos you see on my Instagram account have been taken from my cell phone.  I have posted nearly 160 photographs from my travels around the world, including pictures from countries such as Egypt, Cambodia, Greece, and others.
My friends can also connect with me on my Twitter account. In addition, I have also partnered with Fine Art America.  Fine Art America is one of the best places on the internet to buy art prints, posters, framed prints, and more.  Fine Art America will be managing my website's shopping cart, and will take care of printing, framing, matting, and packaging.  All images will be in a ready to hang condition and there is even a 30-day money guarantee in place.
This entry was posted on Friday, May 10th, 2013 at 2:37 am
You can follow any responses to this entry through the RSS 2.0 feed.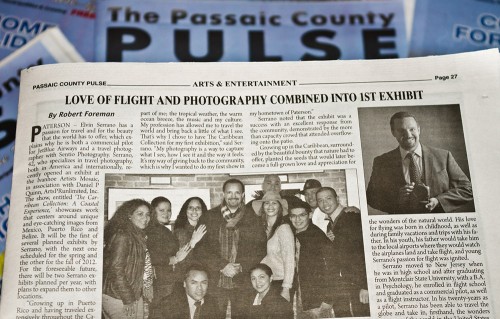 Here's wishing you all a very happy new year! Hope 2012 is a year of prosperity, good health and cheer. And of course, one where you successfully meet the personal/professional goals you have set for the year. I, for one, am excited to launch my second exhibit this spring. But more about that later…I am happy to share news about the print media coverage of my first photography exhibit with you!
'The Caribbean Collection: A Coastal Experience' covered in Passaic County Pulse
My photography debut at IAM (Ivanhoe Artist's Mosaic) was well-received, and I have you all to thank for that. While your appreciation was definitely the icing on the cake, seeing Passaic County Pulse's article on 'The Caribbean Collection: A Coastal Experience' was also a wonderful feeling. While I'm delighted at the recognition, what makes me happier is that I am able to share my love of photography with you, transport you to beautiful destinations through my pictures, and hopefully inspire budding photographers to showcase their collections as well.
If you haven't read it already, my exhibition was covered on December 27, 2011 in the Arts & Entertainment section of Passaic County Pulse (page 27). Those of you who attended my exhibition can refer this news article (and of course, my website!) to friends and family members who are interested in photography.
Second exhibition scheduled for Spring 2012
Now, for the announcement I have in store in for you….I will be showcasing my Greek and Greek Isles Collection in spring this year. The collection will include historic, classic and romantic sites from Greece. Greece is on the 'must visit' list of travelers the world over – you can admire the beauty of this country through my photographs, and maybe even plan a visit to Greece during your next holidays!
This collection will have something for everyone – whether you love and are familiar with Greek history and classic Greek architecture or you are just a romantic at heart, my collection will make you pause and feel. A personal favorite, the Greek and Greek Isles Collection brings back fond memories of the times spent in these magnificent destinations.
Famous French photographer and painter Jacques-Henri Lartique said "Photography to me is catching a moment which is passing, and which is true." My collection is a reflection of those poignant moments when the landscape and architecture of the Greek Isles had never looked more beautiful in my eyes.
Watch this space for more news and announcements about my second exhibit. You can reach me through this site, email at Elvin@SentioPhotography.com or call me at 201-747-1539.
This entry was posted on Wednesday, January 4th, 2012 at 9:37 pm
You can follow any responses to this entry through the RSS 2.0 feed.