New Year Wishes… and Some Exciting Announcements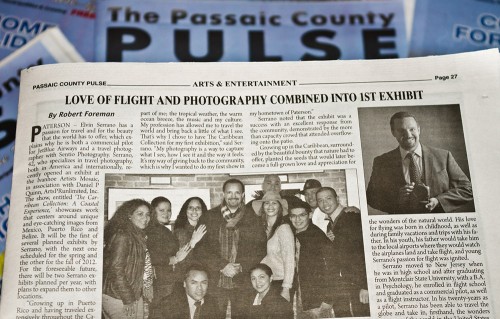 Here's wishing you all a very happy new year! Hope 2012 is a year of prosperity, good health and cheer. And of course, one where you successfully meet the personal/professional goals you have set for the year. I, for one, am excited to launch my second exhibit this spring. But more about that later…I am happy to share news about the print media coverage of my first photography exhibit with you!
'The Caribbean Collection: A Coastal Experience' covered in Passaic County Pulse
My photography debut at IAM (Ivanhoe Artist's Mosaic) was well-received, and I have you all to thank for that. While your appreciation was definitely the icing on the cake, seeing Passaic County Pulse's article on 'The Caribbean Collection: A Coastal Experience' was also a wonderful feeling. While I'm delighted at the recognition, what makes me happier is that I am able to share my love of photography with you, transport you to beautiful destinations through my pictures, and hopefully inspire budding photographers to showcase their collections as well.
If you haven't read it already, my exhibition was covered on December 27, 2011 in the Arts & Entertainment section of Passaic County Pulse (page 27). Those of you who attended my exhibition can refer this news article (and of course, my website!) to friends and family members who are interested in photography.
Second exhibition scheduled for Spring 2012
Now, for the announcement I have in store in for you….I will be showcasing my Greek and Greek Isles Collection in spring this year. The collection will include historic, classic and romantic sites from Greece. Greece is on the 'must visit' list of travelers the world over – you can admire the beauty of this country through my photographs, and maybe even plan a visit to Greece during your next holidays!
This collection will have something for everyone – whether you love and are familiar with Greek history and classic Greek architecture or you are just a romantic at heart, my collection will make you pause and feel. A personal favorite, the Greek and Greek Isles Collection brings back fond memories of the times spent in these magnificent destinations.
Famous French photographer and painter Jacques-Henri Lartique said "Photography to me is catching a moment which is passing, and which is true." My collection is a reflection of those poignant moments when the landscape and architecture of the Greek Isles had never looked more beautiful in my eyes.
Watch this space for more news and announcements about my second exhibit. You can reach me through this site, email at Elvin@SentioPhotography.com or call me at 201-747-1539.
This entry was posted on Wednesday, January 4th, 2012 at 9:37 pm
You can follow any responses to this entry through the RSS 2.0 feed.